2016 Rossignol Sprayer Ski Review
Average Rating:
4.0
Freestyle skis are often twin tips and ideal for the park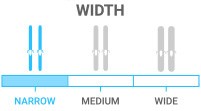 Narrow - ideal for on-trail – hardpack & groomed conditions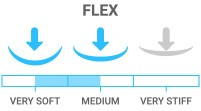 Soft - easy skiing with comfort, not power
Camber skis for strong edge hold for on-trail; no rocker
Our Price:
$249.95
Retail Value: $500.00
(50% OFF)
Watch 2016 Rossignol Sprayer Ski Video Reviews:
Read the Review Transcript:
Hi, this Hans. I just came off the Rossignol Sprayer. This is the perfect ski for the kid coming out of a junior ski getting into his first adult. He wants a twin tip. He wants an all-mountain ski. This will do anything right for that kid. I gave it a 4 out of 5.
Read the Review Transcript:
Hi, I'm Thom and I just got off of the Rossignol Sprayer. I'm going to give this a 4 out of 5 star ski for what it is. It's really geared for your first time skier, maybe someone who's rented a time or two or just getting off junior equipment and getting into their first adult ski. This thing's super fun. It skids a turn well. It actually will allow you to get up on the edge and carve a turn too so for somebody who's not got a whole lot of time on the slopes and is really working to develop their skill set, it's a super fun ski but it also will really allow you to carve and learn some good technique. A really fun little ride - 4 out of 5 stars.
Read the Review Transcript:
I'm Adam and I was just skiing on the Rossignol Sprayer. I give this ski 4 out of 5 stars. It makes a perfect ski for that young kid who's either a tween or a teenager who's ready for his first adult ski or somebody looking for a pure park ski. I found it was pretty nimble into the turns. It wasn't the most stable at speeds but skiers at that skill level are probably looking for something that's a little more forgiving and easy to turn. This is a great ski for it. 4 out of 5.
Read the Review Transcript:
Hi, I'm Andy and this is the Rossignol Sprayer Xelium. This is a beginning frontside ski and it does that just great. Turns are very easy on it. Good initiation. It'll actually ramp up to much higher speeds and holds an edge very well at high speeds. Overall I give this a 4 star rating.