2016 K2 First Lite Snowboard Review
Average Rating:
3.0
All Mountain Freestyle boards are for carving and the park
Directional Twin -most common, tip/tail shape not identical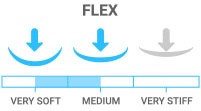 Soft - great for beginners or park, forgiving and playful
Our Price:
$197.95
Retail Value: $329.99
(40% OFF)
Watch 2016 K2 First Lite Snowboard Video Reviews:
Read the Review Transcript:
Hi, I'm Jenna. I just got off the K2 Firstlite. I give this board 3 out of 5 stars. It's actually a great board, it's just not the board for me. It's a total beginner board but it's something that you can get somebody on their first time out and they're going to get confidence and they're gonna progress because it's just very easy to ride. It's very playful. It's very forgiving. You're not going to be catching your edges on it because of how they raised up the contact points and it's just a great board to get somebody out and into the sport and actually progress. So, again 3 out of 5 stars.