2016 K2 Cool Bean Snowboard Review
Average Rating:
4.0
All Mountain boards are for general cruising and carving
Directional - nose and tail have different shape and flex
Medium - responsive yet forgiving for progressing riders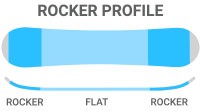 Flat/Rocker - a forgiving feel mixed with added stability
Our Price:
$299.96
Retail Value: $499.99
(40% OFF)
Watch 2016 K2 Cool Bean Snowboard Video Reviews:
Read the Review Transcript:
Hey, I'm Rob. I just got done riding the K2 Cool Beans. I give it 4 out of 5 stars. This is a pretty wild board. I've never really ridden anything like this. By far the surfiest board I've ever ridden. It's really short, as you can see, but has all the same surface area that you get in a much longer board. So, super easy to turn. It really, it kind of has this tipping point that you can feel it and it wants to get over. It holds an edge. At higher speeds, it lets you know when it's going a little too quick and that tail will wash out on you a little bit. This is really more of a quiver board. It's really got a powder shape to it but worked surprisingly well in the hard pack. I was pretty impressed with it. So, really solid board for an advanced all-mountain guy but really more of a powder quiver board.
Read the Review Transcript:
Hi, I'm Trevor. I just got off the K2 Cool Beans. I'd give this board a 4 out of 5 stars. It's definitely a really solid powder-level board. Obviously the conditions right now aren't really suited for it but if you had some nice fresh snow and you want to rip around in powder, it's a great board for you. 4 out of 5.