2016 Blizzard Bodacious Ski Review
Average Rating:
4.3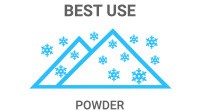 Powder skis have lots of rocker and max float in the pow
Wide - ideal for big mountain, off-trail and deep powder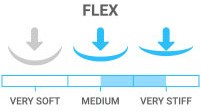 Stiff - advanced to experts who want power and control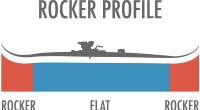 Rocker/Flat/Rocker skis for edge hold, pop and float
Our Price:
$529.96
Retail Value: $840.00
(37% OFF)
Watch 2016 Blizzard Bodacious Ski Video Reviews:
Read the Review Transcript:
Hi, I'm Thom. I just got off of the Blizzard Bodacious. This is a 5 out of 5 star ski. Really aimed at your high-level advanced to expert level skier. This thing has got so much to it. It's a big burly stable as-all get out ski but what was super impressive about it is you didn't have to be hauling to get it to respond to you. It actually is a surprisingly easy ski to ski for how wide and how burly it is. So, if you're looking for something that's going to be a true all-mountain, off-trail just absolute shredder, you need to check this one out. 5 out of 5.
Read the Review Transcript:
I'm Adam and I was just skiing on the new Blizzard Bodacious. I give this ski 5 out of 5 stars. Blizzard made a lot of tweaks and changes for this ski this year to really make it better skiing big mountain skis. The previous versions of this ski, you had to be the biggest, the baddest, the strongest, the toughest. It's really not the case with this ski anymore. Surprisingly nimble. Easy to control. And it's the most stable skis at speed. It's wide enough to really power through any crud or bumps or anything that's going to stand between you and taking another lap. 5 out of 5.
Read the Review Transcript:
Hey, I'm Mike. I just got done skiing the updated Blizzard Bodacious. The Bodacious this year has the carbon tip and tail which is going to give you a little bit lighter swing weight. It's still got 2 sheets of metal so it's going to be really stable and really stiff. I would say I would give this ski a 3 out of 5 stars just because the conditions aren't stacked up for this ski today. Really, this is going to be for your advanced to expert level skier looking to spend most of the time in the powder or off- trail. If you're going to be stuck in the groomers, you're not gonna have a really good time with this. It tends to chatter a lot in the tip just because of the rocker which is expected with a ski like this and it will beat you up. So, if you're the type of guy that's strictly backcountry, strictly powder, I think this ski would be for you. If you're on the frontside, I would go with a lower-end ski. Blizzard Bodacious - 3 out of 5.