2015 Line Afterbang Ski Review
Average Rating:
3.8
Freestyle skis are often twin tips and ideal for the park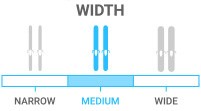 Medium – ideal for all-mountain, off-trail versatility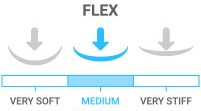 Medium - the casual skier with athletic ability
Camber skis for strong edge hold for on-trail; no rocker
Our Price: $399.95
Reg. $500.00(20% OFF)
Watch 2015 Line Afterbang Ski Video Reviews:
Read the Review Transcript:
Evan here, just got off the Line Afterbang. Only change on this ski this year is the cosmetics. So the black graphic here. I give it a 4 out of 5 stars. It's gonna be good for you intermediate to advanced park skier. Completely symmetrical so it's really just for park riding, hitting jumps. Mainly hitting rails and urban stuff. But great ski 4 out of 5.
Read the Review Transcript:
Hi I'm Thom. I just got off the Line Afterbang. It's a 4 out of 5 star ski for me. This is really for your pure park skier. Super buttery in the tip and tail, real stable underfoot. This is a rail specialty kind of ski. It doesn't have enough stability to hit big jumps. But for your guy that wants a really jibby, really playful ski. This is absolutely a good ski.
Read the Review Transcript:
Hey this is Tyler here with the Line Afterbang. I give it 3 out of 5 stars. It's a great entry level park riding ski. Or if your a expert park rider and your looking to do some straight up jibbing and hitting some rails, this would be the ski for you. It's a great ski inside the park. Outside the park your not really getting much for an edge hold or carving but anything inside the park, feel free you can beat this thing up and it's gonna hold up still. So like I said if your a entry level rider that's looking to get into park stuff. Or if your an experienced rider that wants to just have a ski to bang around this would be a good ski for you.
Read the Review Transcript:
Hey my name is Josh. I just got off the Afterbang. by line. I give this ski 3 out of 5 stars. It would be great for that beginner to intermediate rider or that expert urban or park rider. It's definitely the whirlybird ski it wants to jib, it wants to hit rails and slide around. It's super buttery tip and tail. It's really easy to press this thing. It's fun to ride around but it's definitely not a carving ski. Like I said great for that kid who wants to just hit urban rails like a skateboard. This is everything Line says it is. Very fun ski.