2014 Volkl Yumi Ski Review
Average Rating:
4.3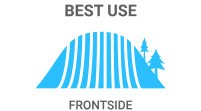 Frontside skis are narrow for carving on-trail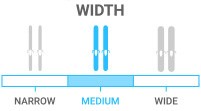 Medium – ideal for all-mountain, off-trail versatility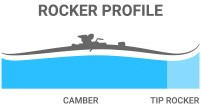 Tip Rocker/Camber skis for edge hold; easy turn initiation
Our Price: $549.00
Reg. $775.00(29% OFF)
Watch 2014 Volkl Yumi Ski Video Reviews:
Read the Review Transcript:
Emily. I just got off of the Volkl Yumi. I give this ski a 5 out of 5 star rating for an advanced-intermediate to an advanced women's skier. If you like to make long turns, it really holds a good edge. If you're more of a short turner, this ski doesn't necessarily whip it around quite as quickly as a slalom turning ski would, but it holds a really good edge, and is very lively for little side hits and getting creative with the skiing. It's definitely a stable ski to land on, but also something that's going to give you a lot of pop and lot of life if you're looking to be playful with it. So, this is the Volkl Yumi and I give it a 5 out of 5 rating today.
Read the Review Transcript:
I just got off the Volkl Yumi. I absolutely love this ski, I'm going to give it a 5 out of 5 star rating. Uh, you know, it's just all around awesome. It's super easy to turn, really maneuverable, little bit wider waist width, so it's great for uh, you know, a little bit softer snow, little bit of powder, but it's also excellent on the hard-pack conditions. Really playful and maneuverable. I just absolutely love this thing at high speeds, low speeds, short turns, long turns, it does it all.
Read the Review Transcript:
Hi, I'm Beth and this is the Volkl Yumi. I gave it 3.5 out of 5 stars as an advanced-intermediate to expert all-mountain board. Definitely can take just about any terrain you throw at it, real stable, holds an edge pretty well. Definitely need to be a little more centered, stand a little taller on this ski when you're enjoying it and you're ripping it all over the mountain. Reason for the 3.5 was just a little more stiff and unforgiving, some good stability and stiffness in the tail, which you want in an all-mountain board, but it kind of lacks a little bit in snap, which is something I personally look for, but if you're looking for a good, solid, all-around ski, it's a great choice at 3.5 stars.
Read the Review Transcript:
Hey, Jess here. I just got off of the Volkl Yumi. I would give this ski a 3.5 out of 5 stars. It's more of an intermediate-advanced to advanced ski. I would say that it's not my favorite, because it doesn't seem to hold an edge as well, especially when you get over on it, but it is very light, very snappy, very, very responsive, so, if your thing is the shorter turns, this might be the ski for you.