2014 Nordica Steadfast Ski Review
Average Rating:
4.4
All Mountain skis are for on-trail; some off-trail ability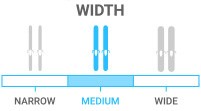 Medium – ideal for all-mountain, off-trail versatility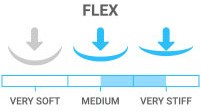 Stiff - advanced to experts who want power and control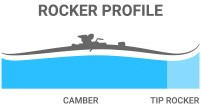 Tip Rocker/Camber skis for edge hold; easy turn initiation
Our Price: $454.95
Reg. $749.99(39% OFF)
Watch 2014 Nordica Steadfast Ski Video Reviews:
Read the Review Transcript:
I'm Adam and I was just skiing on the Nordica Steadfast. 5 out of 5. I absolutely loved this ski. It's a great ski for the advanced skier who's going to spend most of their time on-piste but want to venture off a little bit. 90 at the waist so it's got a little bit of waist width, got a little bit rocker and a full sidewall to it so it's really snappy for short quick turns. Holds a great edge on long turns too. If you're looking for a good ski that can take you anywhere, maybe put a tele-binding on it, this would be a good one for ya.
Read the Review Transcript:
Hey, it's Hunter here. I just got off the Nordica Hell-and-Back Steadfast and this is for sure a 5 star ski. this is for your all-mountain charger, maybe east coast focus who wants a scalpel. I got silly and stupid on this. I stood on this ski as hard as I could. just took it. No whimpers, no complaints. Great edge hold but it doesn't beat you up when you're not pushing it. A great ski that's deceptively powerful.
Read the Review Transcript:
Hi, I'm Thom and I'm here with the Nordica Steadfast. This guy is 5 out of 5. Super, super fun ski. High energy. Tons of power, tons of edge hold but it doesn't beat you up. It kind of politely tells you, I'm going to explode out of the turn and then does. It's a really unique feel. It's very controlled, very precise but still very powerful and exciting. It's really for your frontside carver that wants something a little wider that's got some off-piste characteristics to it but really, with as mellow as it kind of presents itself, you could put a solid intermediate all the way up through an expert level skier on this and they would have just a fantastic time.
Read the Review Transcript:
Kyle here. i just got off the Nordica Steadfast. I give this ski a 4 out of 5. It skied really great all over the mountain. It's mostly a groomer ski but if you want to go off trail with it it still has enough girth to get around any kind of off-trail, so like trees, skiing bowls, a little bit of powder and stuff like that. It's really well but on the groomers is really where it shines. It holds an edge really good and rebound in the turns really easy so I really like this ski. Gave it a 4 out of 5.
Read the Review Transcript:
Hi, this is Trey. Just got done riding the Steadfast from Nordica. I'm going to give this ski 4 out of 5 stars. I think that if you like to cruise and you're going to ski the frontside mainly, do some stuff off-piste and in some crud, it's a really good ski. For me, I like something that's a little bit more playful so if you maybe have a race background or you're really into carving big solid turns, this ski is great. It holds really well. Still has enough energy in it to bring it back and forth quickly if you need to. I just prefer something just a little bit more playful.
Read the Review Transcript:
Hi, I'm Steve. I just got off the Nordica Steadfast. I give this ski 3.5 out of 5 stars. Of the Hell-and-Back series this was my least favorite of all of them. I actually like the model below this, the Avenger, better. And the model above this I loved even better so I don't really see a strong place for this. It's 90 in the waist but the 98 ski that's above it, the true Hell-and-Back ski, skied actually, I thought, narrower feeling than this one did. So, wasn't my favorite but it's a stable ski for that kind of person who's skiing mostly on hard pack but wants something in a 90 waist in case there's a little snow on that day.