2014 Nordica Badmind Ski Review
Average Rating:
4.0
Freestyle skis are often twin tips and ideal for the park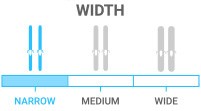 Narrow - ideal for on-trail – hardpack & groomed conditions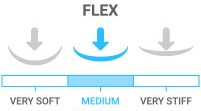 Medium - the casual skier with athletic ability
Camber skis for strong edge hold for on-trail; no rocker
Our Price: $309.95
Reg. $499.99(38% OFF)
Watch 2014 Nordica Badmind Ski Video Reviews:
Read the Review Transcript:
Kyle here with the new Nordica Bad Mind. I love this ski so I'm going to give it a 5 out of 5. Great all-mountain or park ski for anyone even from intermediate-to-expert. Good edge-to-edge even with the cap construction without sidewall. I love it. Try this ski.
Read the Review Transcript:
Hi, my name's Steve. I just finished riding the Nordica Bad Mind. At high speeds I thought it was nice and stable for being surprisingly soft at the same time. It was great with short, quick turns and not as good with long turns going pretty fast. But overall I'd give it 4 out of 5 stars.
Read the Review Transcript:
Kyle here. Just got off the Nordica Bad Mind. It's a new ski here from Nordica. It's a really fun ski for that beginner-to-intermediate level skier. It's pretty fun and fun to play with if you were an advanced skier too. If you're on smaller hills and stuff you can really bend this and play with it. If you're more of that intermediate skier though, the cap construction is really forgiving and stuff. When you're going into your turns and you kind of go a little too much or not enough, so this ski is real fun. I give this ski a 3 out of 5.