2014 Line Afterbang Ski Review
Average Rating:
4.8
Freestyle skis are often twin tips and ideal for the park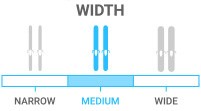 Medium – ideal for all-mountain, off-trail versatility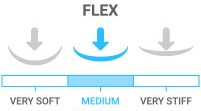 Medium - the casual skier with athletic ability
Camber skis for strong edge hold for on-trail; no rocker
Our Price: $279.95
Reg. $500.00(44% OFF)
Watch 2014 Line Afterbang Ski Video Reviews:
Read the Review Transcript:
Evan here. This is the Line Afterbang. I give it 5 out of 5 stars. It's going to be great in the park and pipe for that intermediate all the way to an advanced skier. It's fun to pop around and butter around on it. And it's a good price-point as well.
Read the Review Transcript:
Kyle with the 2013 Line Afterbang here. I absolutely love this ski so I'm going to give it a 5 out 5. It changes up a little this year and instead of going all wood throughout the whole ski that gave it, kind of, a nice topsheet. I love this ski. It's good for anywhere - beginner in the park to your expert park rat that's out there everyday. Try it. Enjoy it.
Read the Review Transcript:
Kyle here. Just got off the Line Afterbangs. I give these skis a 4.5 out of 5. They were a really fun ski with the skateboard technology it's really poppy and playful. It's really good edge hold. It's a symmetrical ski so you probably want to stay around the park and stuff like that but for jibbing around the mountain, it's really good for it. Once again I give this a 4.5 out of 5.