2014 Blizzard Viva 7.7 Ski Review
Average Rating:
4.2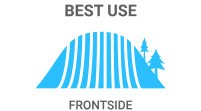 Frontside skis are narrow for carving on-trail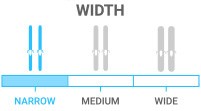 Narrow - ideal for on-trail – hardpack & groomed conditions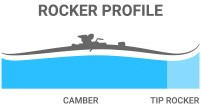 Tip Rocker/Camber skis for edge hold; easy turn initiation
Our Price: $599.99
Reg. $700.00(14% OFF)
Watch 2014 Blizzard Viva 7.7 Ski Video Reviews:
Read the Review Transcript:
Hi. I'm Emily. I just got off of the Blizzard 7.7 IQ. This ski is a lot of fun. Very, very stable. I give it a 5 out of 5 star rating today for an intermediate-to- advanced woman's skier. It's incredibly stable underneath your feet. Very predictable and really a good confidence builder. When you're ready to lay it over on edge, it holds a great carve and was just really, really solid under your feet. Nice and light too so it's quick edge-to-edge but doesn't feel like you've got cinder blocks hanging off your legs on the chairlift. So, an awesome ski for that intermediate-to-advanced woman skier.
Read the Review Transcript:
Hi, I'm Julie. I just got off the Blizzard Viva 77. I give this ski a 4.5 out of 5 star rating. I thought it was a great ski for an intermediate level lady, especially anybody that's really looking to progress their skiing skills. I thought it skied nice and easily through short to medium radius turns, but it actually did hold an edge really well when you got up to higher speeds and really started to advance those turns towards that carved parallel status. So, somebody that's really looking for a ski that's nice and fun and predictable and easy to ski, this is a great choice.
Read the Review Transcript:
Hey, Jess here. I just got off the Blizzard Viva 77. I would give these skis a 3 out of 5. They were an intermediate to advanced ski, so if you're looking for something to you know, push you around and be able to get on edge, these will absolutely do that for you. The only reason that I wasn't too keen on them is there not quite as stable as I would have liked them to be, so if you're charging through some of the crud and things like that, these will move around a little bit on you, but if you're sticking to straight groomers, then these are going to be a great ski.