2014 Blizzard Kabookie Ski Review
Average Rating:
4.3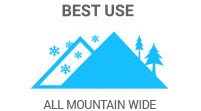 All Mountain Wide skis are one-quiver for on/off-trail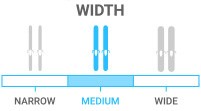 Medium – ideal for all-mountain, off-trail versatility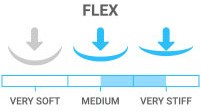 Stiff - advanced to experts who want power and control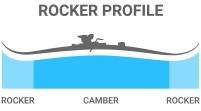 Rocker/Camber/Rocker skis for versatile all-mountain
Our Price: $489.95
Reg. $850.00(42% OFF)
Watch 2014 Blizzard Kabookie Ski Video Reviews:
Read the Review Transcript:
Hi, I'm Thom and I'm here with the Blizzard Kabookie. 5 out of 5 for this guy. It's sort of like the little brother to the Bonafide, it's the same shape, but it doesn't have the metal. What that gives you is a ski that's a little bit more malleable. It's not quite as demanding, but it still has that tenacious grip, that great initiation, tons of edge hold, but it's a little more playful. So, your guy that's got a little bit of a freestyle flare to their skiing, wants something that they can smear and butter, you can absolutely do it here, but when you get on the ski and you're really driving through it, it's powerful, it's solid and smooth on edge. So, anybody really intermediate and up that's looking for a one ski, do all, where they're going to split their time 50/50 between hard pack and off piste, this is it.
Read the Review Transcript:
Hi, I'm Steve and I just got off the Blizzard Kabookie. This ski I give a 4.5 out of 5 stars. It's a 98 waisted ski, I really had a lot of fun on it. It's very playful, transitions from edge to edge very quickly. I found that the ski really liked to go fast, it was very stable at high speed. It liked to make long turns, but I was surprised at actually how quick it was when I wanted to kind of go edge to edge real fast. So, it was a great ski, I would definitely recommend it as kind of an out West, all mountain ski, or for the kind of a person who just likes a little wider ski on hard pack conditions. It's a hard pack day today and it skied just like any good carving ski would ski. So, really like this ski a lot.
Read the Review Transcript:
I'm Adam and I was just skiing on the Blizzard Kabookie. I give this ski 4 out of 5 stars. It's nice, it's stable, it's quick edge to edge, it's really really versatile, so you can take it in a little bit of pow, you can charge it on the hard pack and it'll really do anything you want for ya. It is very very lively, so it's quick, snappy edge to edge. It's not the most stable with the longest of turns on the firmest snow, but other than that it's a very well rounded ski. 4 out of 5.
Read the Review Transcript:
This Hans with the Blizzard Kabookie. I just skied that ski, ski is phenomenal on the high speed. It's 98 underneath the foot, so it's definitely more of a big mountain ski. It will do everything right, definitely for the advanced to expert skier. Great on long turns, a little bit harder for short turn radiuses. But definitely a ski that you can put an expert skier on to have fun all day in any conditions.
Read the Review Transcript:
Hey, this is Trey. I just got off of Blizzard's Kabookie. I'm giving this ski 4 out of 5 stars. Nothing about this ski blew me away, but it did everything really well, that's why I'm giving it 4 stars. So, if you need a ski to take out west, ski the back country, ski the front of the mountain, be in the bumps, tight trees, you can break it free if you need to, yet it still holds an edge real well, it's very, very positive and forgiving, yet you can push it if you want to, and that blend really makes it suitable to me for doing that all around kind of skiing that you might do out west. The East coast or in the Midwest, maybe not so much, but loved it for an all around ski. It's great for a solid intermediate through even a causal expert skier as an all purpose ski. So, 4 out of 5 stars.